August 2016  Here is a screenshot from the video on you tube and the hyperlink to Ed Palermo's Big Band at The Falcon 8/6/16.

July 2016!
Hi friends. I'm wishing you good health, peace, patience and love!
Saturday July 16th the skies cleared, after soundcheck was rained out,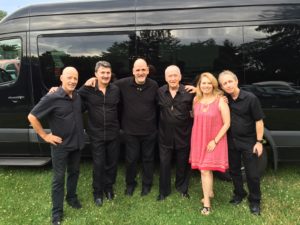 and we had a wonderful audience at our 7pm show "Broadway in Lake Success".
It was the first time this band has played together, but; I have worked with each of these guys for years. So cool to be with such good friends/colleagues onstage!  Bandleader Morris Goldberg  (my husband's bandmate in the "McD'LTs") invited me and Paul Binotto (my dear friend since we were in the original Dreamgirls on B'way) to sing a great selection of show tunes arranged by Morris for this event.  Ron Tierno played drums. We worked together 8 times a week for over 6 years in CATS on B'way. David Bravo played keyboard. We have performed concerts together, with MoGee, for many years. Laying down the bass was Jeff Ganz, my bass player, studio engineer and producer. Yep, it was sweet. The music was good too.:) Thanks to Neville Grusd for bringing us to Lake Success.
July/August 2015
Hope you have enjoyed your summer so far. We have been working, travelling and enjoying the music of friends and family.I was in the studio recording for Larry Kerchner in the late spring and sang in his big concert at Birdland May 31st. It was a glittering night! Ray and I went to Cleveland to see Godspell in Cain Park, co-directed by my cousin Joanna May. We stopped by Nightown for a post-show drink and dinner. Had a great family hang! Saw The Rock and Roll Hall of Fame. It is a well done museum!! We'll be back there for a longer visit. In July Songwriter Seth Bisen-Hersch invited me to sing for Broadway Meows at Don't Tell Mama. I sang his thoughtful ballad "Time".
Ray and I are returning to Birdland this Sunday 8/2 for a fun set at 6:00!! Doors open at 5:00. Hope we see you there.
September 13th, 2014
Autumn begins in 9 days but the Fall performance season is in full swing!
Last Wednesday closed the Concerts for City Greens 2014 season in Tudor City Park. Bravo to Dr. Garrett Bennett and Raissa Katonah Bennett for a beautiful series in a beautiful setting!!
Looking forward to seeing String of Pearls this weekend at The Metropolitan Room.Their harmonies and arrangements are complex, terrific and so much fun!
March 2nd, 2014
This coming Friday night-March 7th at 7:00 Dana Lorge's Variety Show at The Metropolitan Room.I will be singing a few tunes and so will Gary Crawford and Jillian Laurain. Jeffrey Gurian will keep us laughing. Come join us for cocktails and fun!
March 1st, 2014
February was wonderful and exhausting. Fortunately the weather did not get in the way.We lucked out with a fairly clear day for our debut at the world famous Birdland on February 20th. In preparation we met with the very accomplished director, Mark Waldrop. Our show was A Family Affair with my husband, Ray Marchica counting us in from behind the drums and my daughter, Maddy Ruff, singing back-up and guesting in her own segment. Our son, Paolo Marchica brought his team to videotape the show.My folks, Blair and Mitzie Hennessey flew up from St. Pete, FL. Ray's Mom, Ann Marchica and his sister, Irene Marzella sat at the table with birthday girl Kathy Pecararo and her husband Larry Samaris. Just 5 days later Kathy and Larry became Grandparents to baby girl Emma.
Sunday night 2/23 was so much fun! Thank you to Stephen Hanks and BroadwayWorld.com for a great awards night at Joe's Pub. Thanks too to my fantastic band who magically showed up to play for me!!…. finger snaps & snare Ray Marchica,  finger snaps&piano Don Rebic: , finger snaps & bass Jeff Ganz
January 10th, 2014
Thank you, thank you, thank you to all of those who participated in the BroadwayWorld.com Cabaret Awards.I am thrilled to be among the winners. The awards concert will be February 23rd 6:30-8:40pm at Joe's Pub.
December 15th, 2013
Listening to Prairie Home Companion on the radio this morning. My husband Ray Marchica is playing the drums. Got to attend the live show yesterday afternoon. What a delight. Walked through the snow to the subway and then from the subway to Town Hall on 43rd Street. My daughter and her beau made the trek in from Brooklyn. It was a magical afternoon to visit Lake Wobegon in the middle of Manhattan!!
Happy Sunday Everyone!
November 19th, 2013
Thanksgiving is next week. So much to be thankful for..starting off with I do not have to cook the turkey. I am free to stay out late at SMOKE the night before!!! It's Funk Night with Ray Marchica and his friends          Rodney Jones , Mike LeDonne and Chase Baird. There may be some guest artists sitting in, too.
TONIGHT we will be in the middle of DISASTER…our friend Seth Rudetsky's new play on West 46th Street.
Have a good Tuesday night. I'll be back in touch soon.
October 26th, 2013
October began with a tidal wave of arts. I could not catch my breath until the third week arrived. Every night there were at least three simultaneous fantastic performances/screenings. (I missed GRAVITY and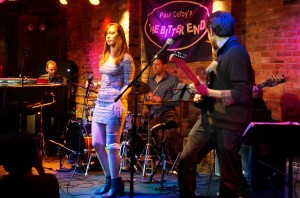 the after screening visit with George and Sandra) What could one girl do?? My usual even keel failed me. Choosing between equally wonderful events was panic inducing. The default survival tactic? Attend the event that still had (reasonable $) tickets available close to show time.So, Jeff Harnar at Birdland, 3 nights at the Cabaret Convention, Salon with Special Host Willy Falk, Natalie York at Rockwood, Tierney Sutton at The Jazz Standard, Janene Lovullo Simpson at Don't Tell Mama, Maddy Ruff at The Bitter End, Gary Crawford's debut at The Met Room, Sunny Leigh at The Met Room, Greg Generet at SMOKE, Birdland Big Band at Birdland, Jim Caruso's Cast Party at Birdland, Fred Barton's Birthday Bash, Marilyn Maye @ 54 Below, AFTER MIDNIGHT preview. Some of you know that an artist's life also includes pursuing your own craft and career and a paycheck. Had to do that too. So………last week I renewed my subscription to a little book that I read daily from high school through my first 5 years in the business. Now,every morning before I read anything else, I read my Daily Word and take time for a morning meditation. Thank you Nana Audrey for giving me that gift so long ago!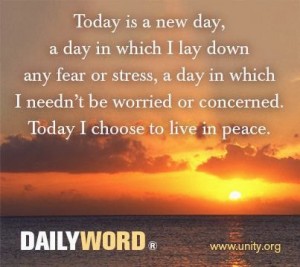 September 13th, 2013
Have you ever been to Tudor City? I have always found it a magical place…this Tudor style village tucked between East 40th and East 44th Streets and the East river, just above 42nd Street. It has been a walking favorite of mine since my dear friend Pam Cecil told me how to get there, years ago. The majority of one side of this village is a park!!! That park was the inspiration for a concert series that has spawned a non-profit that raises funds to sustain the green spaces in our densely populated town. Yes, sustaining/creating oxygen for us all breathe. This is the brain-child of Dr. and Mrs. Garrett (Raissa Katonah) Bennett .
Wednesday evening, 9/11/2013 was the final concert for this season of The Concerts for City Greens.The magic quotient got multiplied heftily as music filled the air in this special place on the 12th anniversary of the event that threatened our ability to breathe free.
Love,Nina
August 15th, 2013
The Tribute to Julie Wilson ,Tuesday night, Aug. 13th at The Iridium…. a beautiful night in honor of a beautiful human being and artist!!!
July 29th, 2013
We had a Family CD Release Event at The Iridium last week. Many  thanks to Scott Barbarino of ScoBar Entertainment. The house was full and we all had a good time. My daughter, Maddy Ruff, started off the evening at 8:00 with her band. She sang songs from her debut CD, Don't Fall. She threw in some covers, too.She has created a buzz…was on Sirius Stars over the weekend with Seth Rudetsky. and she received a very nice review on Times Square Chronicles.
Ray and I hit the stage at 10:00 with tunes from my new CD, With A Song, and his, A Different View. Don Rebic, musical direction/keyboards; Jeff Ganz,bass; and Sean Harkness,guitar played their "catooches " off. The next time, I'm giving the guys vocal mikes….the onstage banter is very entertaining!!!No fair when I'm laughing and the audience doesn't know why!!!
June 29th, 2013
Happy summer everyone!
Big news coming up in July.
May 18th, 2013
"Then April cried and stepped aside and along come pretty little May. May was full of promises but she didn't keep em quick enuf for some. And a crowd of doubtin Thomases was predictin that the summer'd never come. But its comin by gum,Y'ken feel it come, Y'ken feel it in your heart, Y'ken see it in the ground, Y'ken hear it in the trees, Y'ken smell it in the breeze, look around, look around, look around!"
Looking out the window on this chilly overcast day makes me feel like one of the "doubtin Thomases" but we all know that "June will be "bust'in out all over" very soon. For a preview, come to Molloy College's Madison Theatre next Saturday, the 25th at 8:00 for wall to wall Rodgers and Hammerstein warm weather songs. That's what I call them. Summertime fare!!
I will be on the same bill as the Legendary Marni Nixon. Wow! She was the musical movie soundtrack of my childhood. This is very very cool for me and my parents. Thank you Angelo Fraboni  and David Hibbard!
NYC AIDS WALK. Thinkin of my "Harry Beaton", Lee Raines, as he walks, yet again, tomorrow. His life is a movie. Gorgeous, talented, the smartest guy in the room, and a spectacular survivor. Nothing holds him back or down!
Have a wonderful time til the next time!,
Nina
May 8th, 2013
Iridium last night to see Nicolas King and Hilary Kole. Boy, what a great night of Great Singing!!! Sat next to Marilyn Maye and Lynn DiMenna. Composer/conductor/producer and old friend Glen Roven was two tables away. (Nicolas sings a beautiful song of Glen's from his musical The 5,000 Fingers of Dr. T.) Go hear these folk if you get the chance. You'll be glad you did!
Over the weekend went to DALLAS, for the first time in my life, for Page Stafford's wedding to Dawson Clark. Page's mom Margaret is my dear dear friend . We have been bosom buddies since we played ukulele duets sitting on the dock off the bay, in St. Pete when we were 10. Margaret introduced me to so many neat friends in Dallas. I had a ball. The wedding and reception were beautiful. I have rarely felt such joy in my life, and you all know I am a consistently pretty happy person. This was "just a few times in a lifetime " kind of happy!!…Enlightened Joy all around!!!
April 24th, 2013
The show at The Metropolitan Room was so much fun! Thank you to everyone!
What next?…..
….Mixing the studio recording!
I spent a lovely evening last night with Rosemary Loar, Stephen Hanks, Shaynee Rainbolt and her friend from Italy, MaryAnn, at The Laurie Beechman Theatre, supporting Raissa Katonah and Garrett Bennett's new non-profit for Arts in Green Spaces around the country!!! The performances were wonderful.So much talent in one room!I was re-united with my dear Les Miserables co-hort, Willy Falk. He sang so beautifully!!(He was the original male lead in the Broadway production of Miss Saigon.) We reminisced and made plans to go to 54 Below next month with the incomparable Jennifer Butt (original Madame Thenardier)and (the casting director and acting coach)Andrew Zerman to see our pal Frankie Ruffelle perform !
Today I saw Herman Sebek, another original company of Miss Saigon alum. Whats going on? I didn't do that show but I'm friends with many original cast members. Hmmmm.Just enjoying it all!!
Warm regards,
Nina
April 14th, 2013
Shameless plug………This Tuesday 4/16 and Wednesday 4/17 at 7PM….my new show "With A Song" at The Metropolitan Room.  Its going to be a great time. Come join the fun!! You'll meet the family!!
34 West 22nd Street    212-206-0440  For Reservations
A SPECIAL NOTE ABOUT MY NEW SHOW: Do you remember the children's story "Stone Soup"? Or Hillary's phrase "It takes a village"? Well,Nina has been the recipient of a new variation on the theme of collaboration and sharing, where wise professionals at the top of their game but still learning and growing share their knowledge, music and stages to encourage and nurture each other and younger generations as well. I want to thank the following wise professionals for their immeasurable contribution to this labor in love.
Deb Adamy, Scott Barbarino, Fred Barton, Elena Bennett, Raissa Katonah Bennett, Deb Berman, George Brescia, Willie Burke, Terry Burrell, Diane Coad, Kimberly Chesser, Bill Daugherty, Dr. Bob Epstein, Jeff Ganz, Terese Genecco, Eric Michael Gillett, Morris Goldberg, Sue Goodman, Sue Halloran, Sean Harkness, David Hibbard, Rose Inghram, Mark Janas, Terri Klausner, Barry Levitt, Paolo Marchica, Ray Marchica, Steve Marzullo, Marilyn Maye, Metropolitan Room, Faith Mercuro, Tanya Moberly, Jeanne O'Connor, TKO, Shaynee Rainbolt, Don Rebic, Ruby Rims, Holli Ross, Seth Rudetsky, Maddy Ruff, Ellen Saland, Smoke Jazz, Pam Sousa, Lynn Sterling, Deborah Tranelli, David Wikstrom, Gregory Wikstrom, Micah Young and John Znidarsic. 
Warm regards,
Nina
MARCH 23rd, 2013
Good Pesach and Happy Easter this coming week!
Congratulations to all of the Manhattan Association of Cabarets and Clubs Awards Nominees and Recipients. Drinks, dinner and a live spontaneous show at BBKings…Its the best awards format I know!
Mazel tov, Good Luck and Congratulations to my niece ,Phoebe, and her fiance, Mike. We are having a family seaside shindig in Miami shortly.
This Tuesday night, 3/26 8:00&10:00, at Iridium, I am honored to join the festivities in celebration of Terese Genecco and her Little Big Band's 4th Anniversary, downstairs at the SE corner of 51st and Broadway!!! (I'll be singing in the 2nd set.) The list of performers joining T. is truly awesome. Want a crash course in who is who and what they do?? Get to the Iridium Tuesday night for both sets! Singing with this 8 piece band  is a blast and a rare opportunity, outside of a Broadway house,..so rare that I have asked Mr. Tom Hubbard to write horn parts for my tune! Can't wait!!!
Coming up next month….drum roll……..Nina Hennessey WITH A SONG My new show and first as a MAC member.       April 16th and 17th at 7:00PM   Metropolitan Room   34 W. 22nd St.  1-212-206-0440 http://metropolitanroom.com/show_right.cfm?id=90882&cart

Time to make your reservations!! Copy and paste the link above into your web browser to go directly to my page on the Metropolitan Room website. Can't wait to see you and to share the music that has been percolating these past few months. (years, to be honest!!)
Warm regards,  Nina
Time flies!  March is upon us.
I enjoyed a beautiful respite in London and Paris traveling with the band and getting to watch Liza Minnelli in concert. The audience reactions were something I've only read about, until now…. Multiple encores, Stomping their feet and coaxing her back onstage by  serenading her with "Happy Birthday to You" .  Experiencing a legend??…PRICELESS!
Now back to work!!!
My band and I will re-convene in the studio next week. Hope to have something to share by the time I open at The Metropolitan Room on April 16th.
Warm regards,
Nina
Welcome!
I hope that you've enjoyed a good start to 2013.
The blockbuster film of Les Miserables has created new buzz about the musical. I was in the Original Broadway Cast. We have had two mini-reunions so far this month. Jennifer Butt, the original Madame Thenadier hosted an afternoon in her lovely home and Anthony Crivello (Golden Boy) and Tim Shew (Evita) arranged an after show get-together at Cafe Un Deux Trois. It was wonderful to share some time with these cherished friends.

Next month I'll begin my first studio recording. I've recorded in many studios over the years for others, but not for myself! This has been a long time in coming. A lifetime of friends and influences have brought me to this point. Particularly helpful have been Deb Adamy, Raissa Katonah Bennett, Deb Berman, Willie Burke, Terry Burrell, Kimberly Chesser, Bill Daugherty, Dr. Bob Epstein, Jeff Ganz, Terese Genecco, Eric Michael Gillett, Morris Goldberg, Sue Goodman, Sue Halloran, Sean Harkness, David Hibbard, Rose Inghram, Terri Klausner, Barry Levitt, Paolo Marchica, Ray Marchica, Steve Marzullo, Marilyn Maye, Jeanne O'Connor, TKO, Shaynee Rainbolt, Don Rebic, Ruby Rims, Holli Ross, Seth Rudetsky, Maddy Ruff, Ellen Saland, Deborah Tranelli, David Wikstrom, Gregory Wikstrom, Micah Young and John Znidarsic. 
Joining me in the studio on piano will be my musical director, Don Rebic,  on bass-Jeff Ganz, guitar-Sean Harkness, and on drums-Ray Marchica, my husband.
The temperature is cold outside. We're expecting snow this week. Wherever there is good music there is plenty of warmth!!

                                                                                                 Warm regards,
                                                                                                                                 Nina